Tell us about your connection with the Waikato tech industry.
As a former founder and now professional tech director and investor, I know the importance of the community when it comes to leading in the Kiwi sector.
At my core, I'm a scout for the next generation of Kiwi tech talent, with a special focus on nurturing talent in Waikato who have truly global ambitions.
I founded Native Data here in Kirikiriroa as a unique vehicle to discover new tech companies and talent to invest in. With a vacuum of traditional funding pathways post covid, we help them get through that first "niggly" phase of productionising, monetising and taking their tech products and services to market, providing fractional executive support to accelerate their personal growth and epic businesses.
A big part of Native Data mahi is turning up the volume on the plethora of cool tech stories from here in the Waikato with the goal of enticing potential international funders to come and take a harder look.
VCs and PEs are actively tiki touring round New Zealand with envelopes of money – so we put a lot of time and energy into proactively engaging with our global networks and ensuring our tech startups and scale-ups are being seen and heard. That way, when the time comes for funding, there are established relationships and a warm funnel of investment opportunities.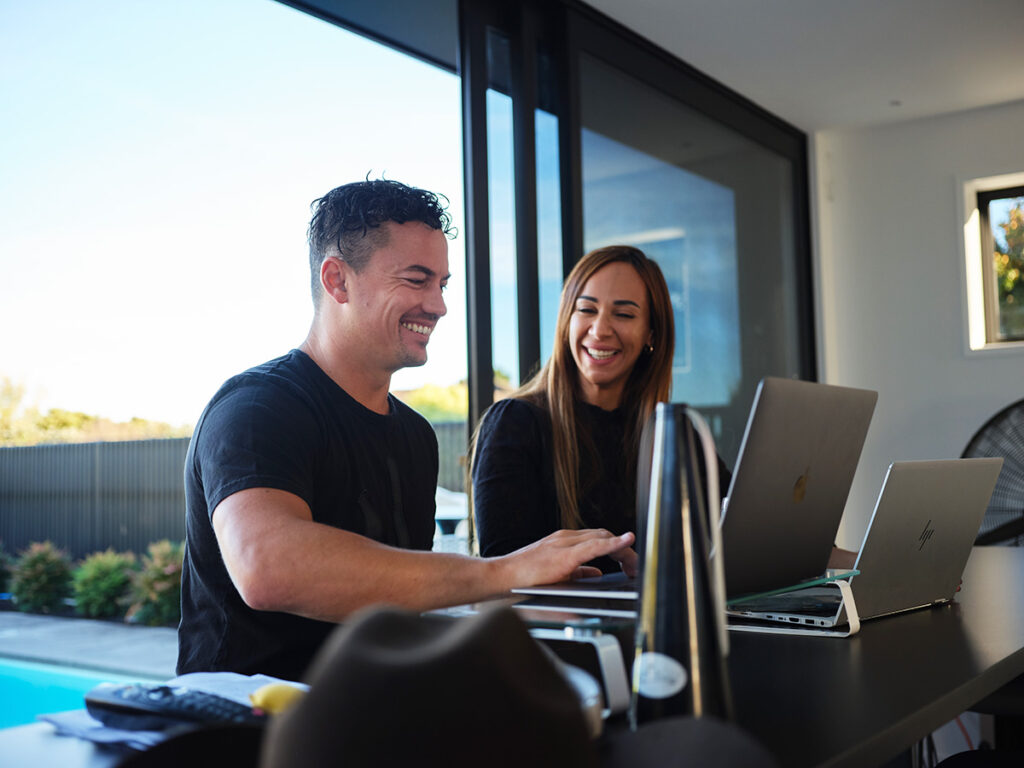 Beyond the Native Data 'venture lab' mahi for which I mentor and support up to half a dozen businesses at any one time, I'm focussed on professional board and governance roles.
Right now, I'm proud to be chairman of the Board for Aware Group, Aotearoa's leader in the enterprise class adoption of AI, also headquartered in Kirikiriroa.
My newest board role is supporting a hugely impactful kaupapa as a trustee board member for an exciting new entity Tū Ātea formerly known as the Māori Spectrum Commission. In this role I work with the existing board and stakeholders with a focus on closing the digital divide that exists for Māori including increasing Māori participation in tech at leadership, governance and entrepreneurship levels.
Through my mahi with Elevate Aotearoa's Future, I'm also active in the community working with our tamariki to take the blinkers off and demonstrate what's possible including the intergenerational change that can be made by embracing a career in tech.
What drew you to a career in tech?
The diversity of the people and the mahi. I get my personal energy from people, so I really enjoy that side of it. I'm a geek at heart! The opportunity to be surrounded by phenomenal intelligence and people who think out of the box by default is hugely motivating.
The fact that tech now underpins every single industry, particularly now with consumerisation of AI – from financial services to agriculture to aerospace – is fascinating to me. Quite literally every industry can be disrupted through tech.
What does a typical day look like for you?
I feel very privileged to have flexibility in my schedule these days post my exit from The Instillery, which means I can drop my four tamariki at kura every morning before heading to the gym and grabbing a coffee with partner Marsha.
I usually start mahi around 9:30. Every day is different, because each of the organisations I support are at different phases and stages, but I have fortnightly check-ins with my founders and CEOs who often come out to my whare in Tamahere or we meet at one of our favourite coffee spots in the city.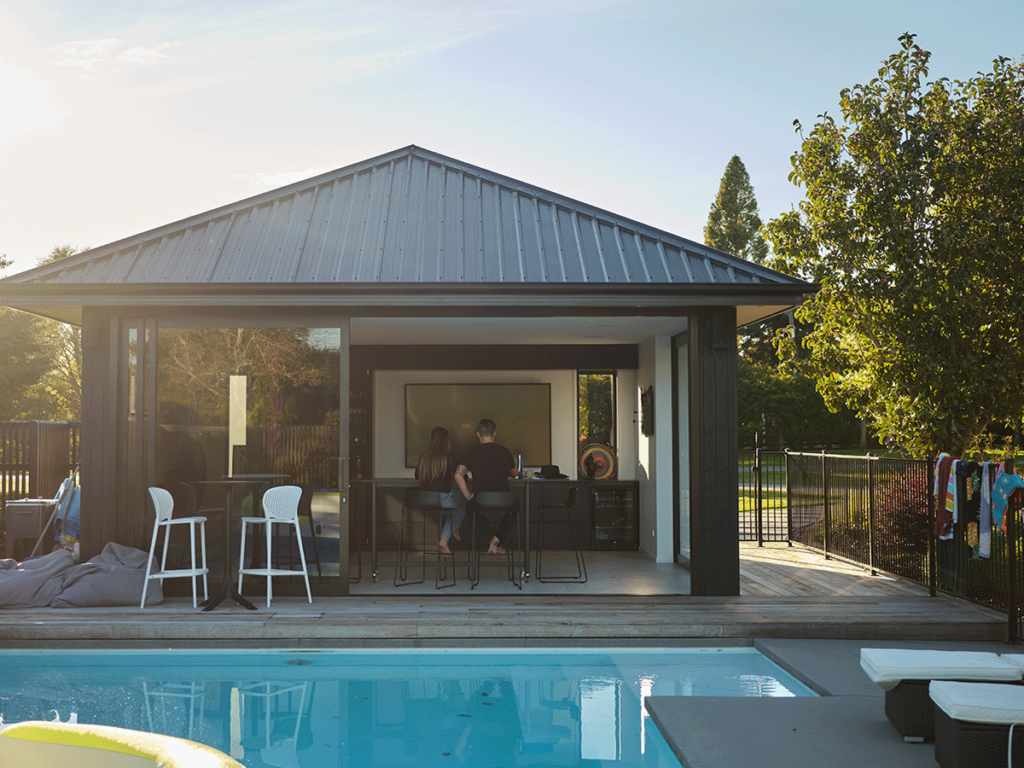 Mike's work-from-home space in his whare in Tamahere on the outskirts of Hamilton.
Then I might work on the less glamorous but critical activities such as writing and reviewing board work plans/papers or working with the executive teams on exploring new strategic initiatives.
As part of my charity work, I'm a regular speaker at schools and tertiary institutes, or supporting awesome kaupapa like Kōkiri – the Māori startup accelerator.
Towards the end of the day, I'll pick our tamariki up from school, do the usual sports and dance dad duties. Then once they're all tucked up in bed, a few nights a week, I'll do some video calls with potential investors – right now, largely with Europe and Asia entities, to re-emphasise the cool things happening here in the mighty Waikato and to keep those connections warm for when opportunities come up.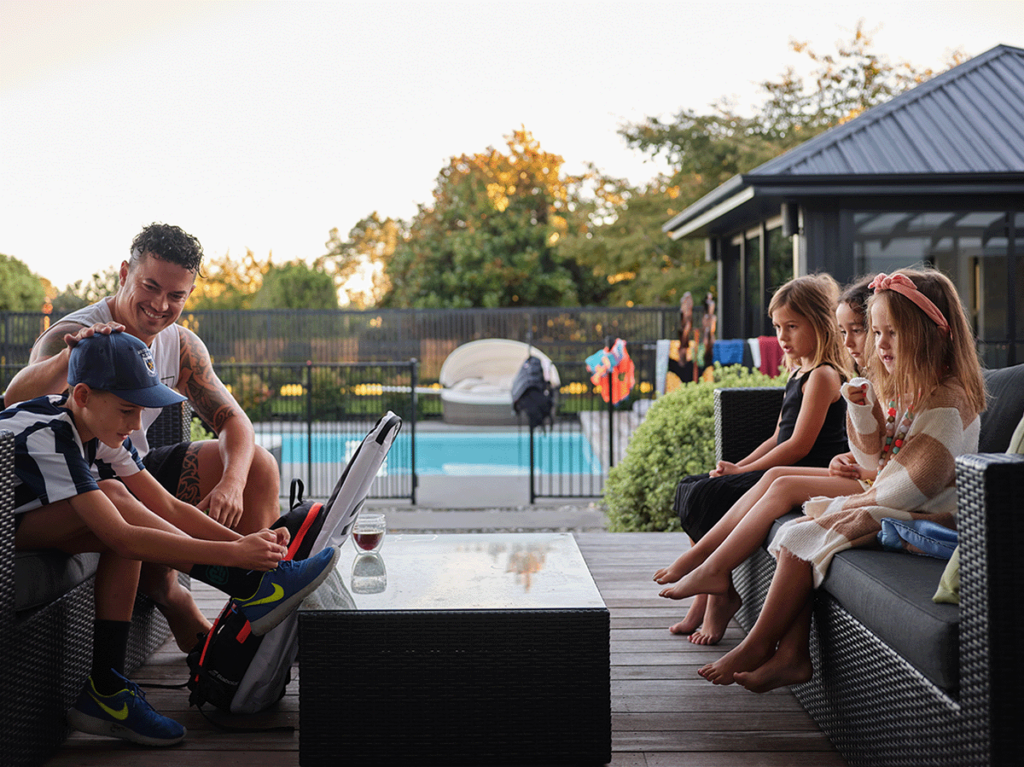 Mike spends most days after school pick-up hanging out with his whanau.
What advantages does Waikato offer the tech community?
Collaboration is king. Here in Waikato, we are small but mighty. Which means as a tech leader in the region, you have the ability to pick up the phone, speak to your peers, vibe on ideas and triangulate information pretty quickly. More informally, you also bump into each other at school drop off or the local coffee shop which can be just as valuable.
This tightness and commitment to transparency and collaboration means when we're collectively lobbying the government for legislative changes to support critical growth in our sector, we're 100% aligned and can go together with ultimate clarity in our "ask". This differentiates us significantly from other regions and I've had direct feedback from MPs on that.
As tech leaders here in the region, we all serve a high purpose beyond our privatised balance sheets. We're here, present and investing to lift the tech sector as a whole rather than compete on individual scales – this is reflective of the great support behind initiatives such as TechintheTron!
From what I've seen this kind of industry engagement and community cohesiveness doesn't exist anywhere else on the planet.
And because of this, it's just a tonne of fun. In this community, egos are checked at the door, so we can celebrate individual wins together.
Talent access and influence. We can pick up the phone to the CE or vice-chancellor of an institution, schedule a glass of vino at Mr Pickles and provide direct feedback on the calibre of talent and gaps we're seeing or future pathways. That's special.
The same goes for Gallagher – a world class tech employer right here in the Waikato. Leaders like Kahl, chief executive of Gallagher, managing half a billion-dollar balance sheets, will happily discuss opportunities and challenges in the industry and what we can do about it.
Ability to extend capital runway. Starting or scaling a business in the Waikato means you can do MORE with less. From personal experience, it's a material difference when compared to the likes of Auckland, Wellington and now even Tauranga and Queenstown – in the order of 20-30%. If your cost pressures are high then you can't hire, but with that flexibility here in the Waikato you can invest to grow faster.
Lifestyle. We love living in the Waikato and with the continued investment here by the likes of the Stark whanau with awesome establishments like Made and the central city rejuvenation, the Tron has some epic choices of restaurants and bars.
It's ideal for young families – we have phenomenal schools like Southwell, Tamahere Country School and many more. And as a business leader it's 10 mins to most places.
As a keen fisherman, Raglan's only 40 minutes away, so you can go fishing on a weekday, fill the bin with west coast snapper and be back by the time school finishes.
Living here means you get to focus on your business when you're at work, but still be there for your whanau and maintain a balanced lifestyle outside of mahi.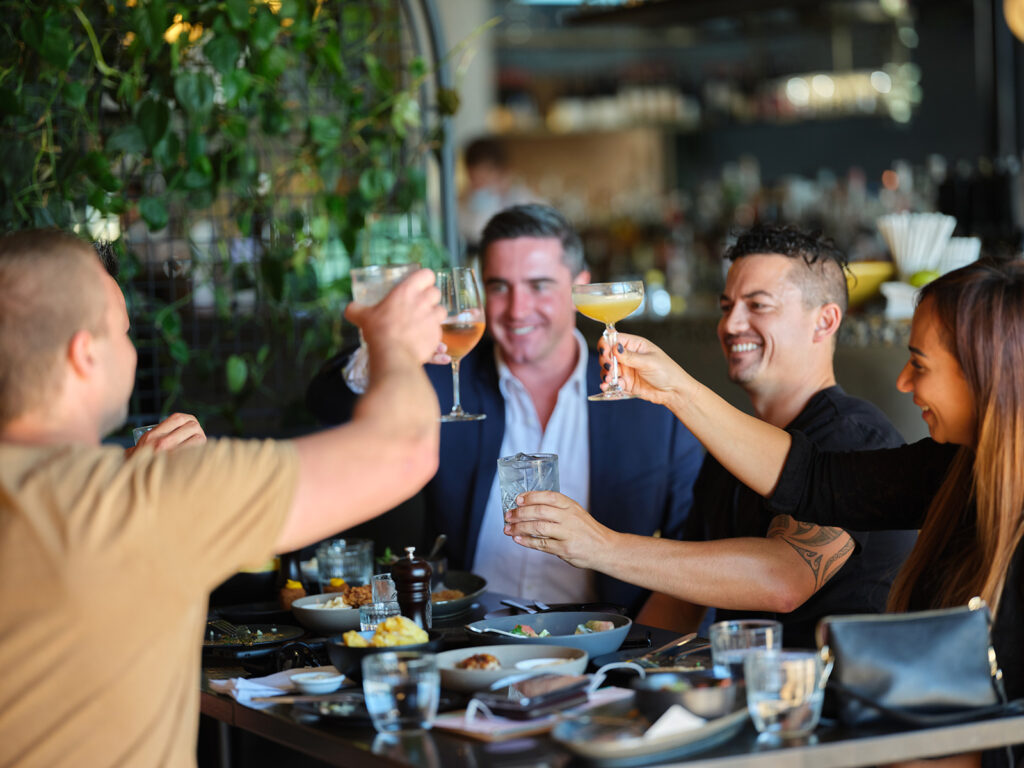 Mike enjoys regular meet ups with fellow tech leaders
What are the opportunities for growth and connection like?
From a business leader/founder/entrepreneur perspective, The K-Collective is a super valuable one. It's an established network of providers who offer critical business services – tech (Cloudland), accounting and finance (Maisey Harris), legal (iClaw), insurance (Frank) – which essentially means business leaders can land in the Waikato and rapidly scale through these services based on the stage of their business.
Beyond that, it's a quarterly catch-up where local leaders come to chew the fat, listen to a speaker and get visibility on what's happening in the Waikato tech space. Anyone who wants to join can connect with me on LinkedIn.
There's also the Tech Waikato meetup which is a forum for tech people at all levels to connect, listen to great speakers and korero about what you're working on.