Tell us about your tech role.
I'm an app developer at Shift72, a SaaS video streaming company in Hamilton. My team creates video on demand app features for clients – including film festivals, cinemas and corporates – who come to us in need of a video platform to showcase and sell their content.
For me, it means writing code for apps which includes either implementing new features or fixing bugs.
A typical day in office will start with a standup where everyone provides an update on the previous day's tasks and what we have planned for today. It's a chance for our team to get on the same page and get questions answered.
From there, I block out periods of my day to work on each task. It can be tricky estimating how long something will take when you're coding, so sometimes I'll need to do research on a particular feature or bug before I get stuck in.
Aside from that, I'm involved in other team huddles and check-ins with my manager and mentor.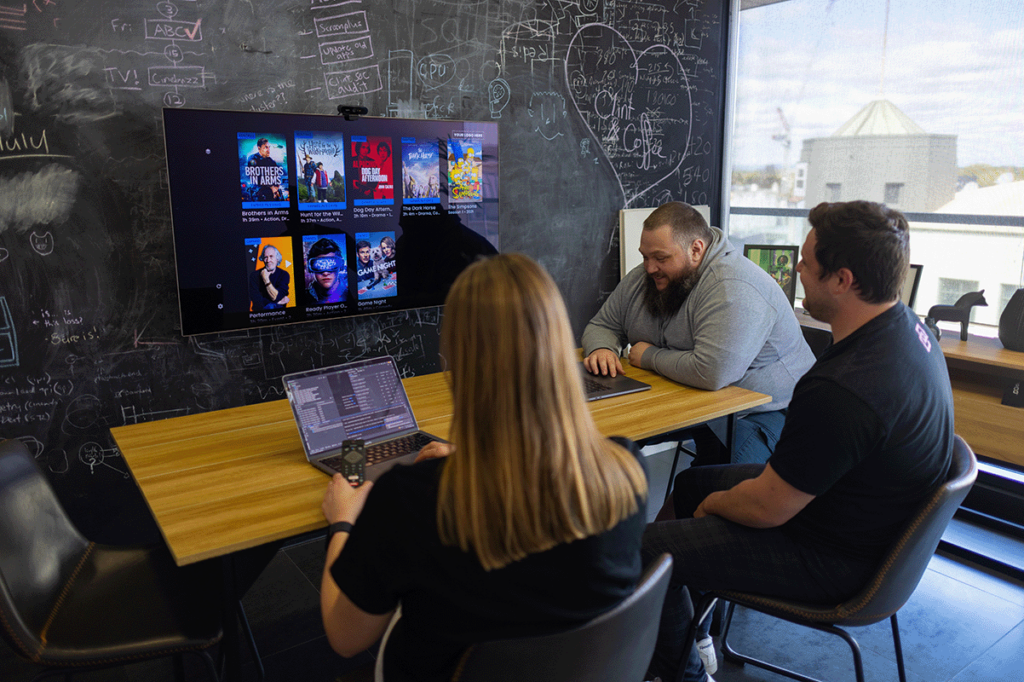 Emily in one of her regular team huddles.
What drew you to a career in tech?
At school, there wasn't much in the way of computer science, but I loved maths and languages. And when you think about it, learning a human language is similar to learning a computer language.
I also knew I enjoyed technology, so I put two and two together and signed up for a Bachelor of Science, majoring in computer science and minoring in French at the University of Waikato.
During the last year of my degree, I was offered an internship at Shift72 which then turned into a full time gig once I graduated.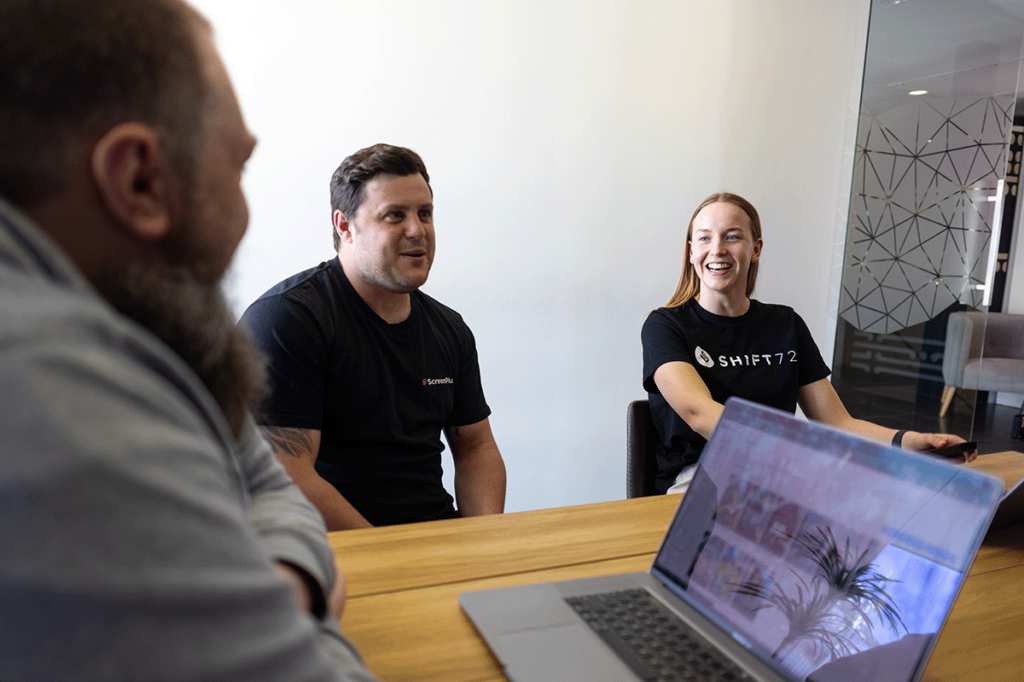 Emily with her team in the Shift72 office.
How has working in a small company helped your professional growth?
It means I've been exposed to the many different sides of app development. I've learnt how to build an app from A to Z – not just coding, but how to upload apps to the app store, onboard clients and learn how the whole development cycle works.
So instead of being confined to software development, I get to branch out into other areas which includes working directly with clients. And seeing my work out there in the world and people actually using it has really boosted my confidence and shown me how tech intertwines with design and structure.
We also have a high degree of transparency between teams and open conversations which is easier in a small company.
I'm also enjoying the fact that I get time with and focus from mentors and seniors which has been great for my development.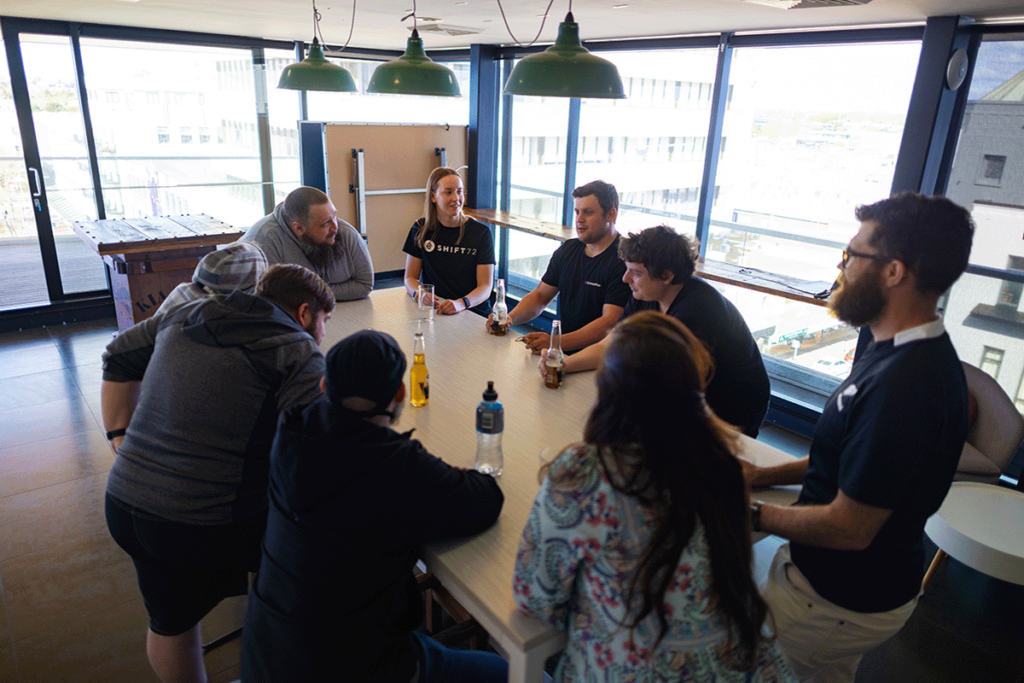 What's the vibe of Hamilton's tech scene?
Hamilton is a tech-driven city, and I hear stories about all sorts of exciting projects from people in my team who've come from other companies in the region.
I find the location good in the sense that there are opportunities to be involved in industry events and gatherings. For example, I went to the Rise Up event earlier this year and I'm part of Future Leaders in Tech which is a national group of tech users in the early stages of their careers. They hold events around the country and it's easy to make the 1.5 hour trip to the Auckland events.
And it's not just the tech learning I find helpful, it's the networking and general business insight, too. There are generally a varied group of people there, so I'm not just meeting other software developers or people from within the tech industry. I meet people in communications or marketing and board members, for example, which exposes me to different perspectives.
What's life in the Waikato like for you, outside of work?
I'm big into triathlons. I wouldn't say I'm an elite triathlete, but I race with a lot of top New Zealand athletes and attend major international competitions.
So I spend a lot of my free time training, and moving to Cambridge has been amazing for this as it's such a sport-driven town.
With hybrid working, I'm only travelling to the office 3 days per week. So, on those days, I'll come in early to swim before work. Then in the afternoons, I'll bike or run in Cambridge where there are lots of quiet roads and river trails. It's such a good buffer between work and home life.
This flexible way of working is one of the biggest perks for me. Having those days from home means no commute time which means I'm able to manage my training to my best.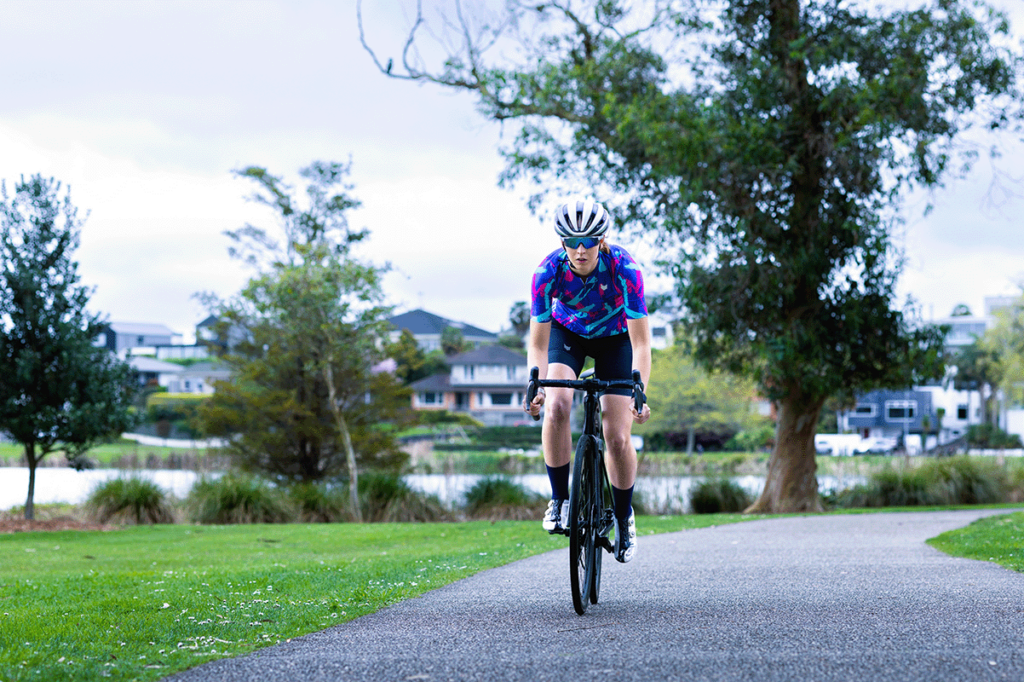 Taking advantage of Waikato's scenery, Emily integrates triathlon training into her work schedule.
What do you enjoy most about living in the Waikato?
It's the lifestyle for me. Here, I can lead an active life at a relaxed pace, yet still work in a tech-driven city where I'm able to progress professionally.
Oh, and one area that's underestimated in Hamilton is the food and coffee scene. There are some amazing places, especially in the CBD. I often pop into Cream in Garden Place for lunch or a treat.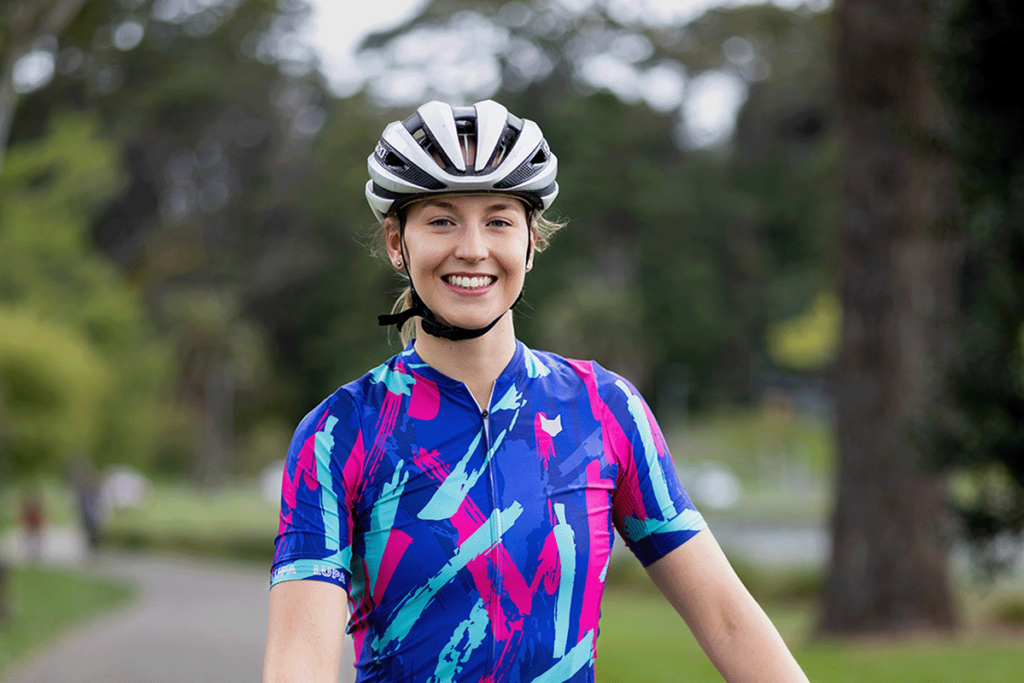 Emily finds her afternoon training a good buffer between work and home life.
Where do you see yourself in 5-10 years?
Computer science is such a broad field and with all the changes in technology and AI, it's hard to say what tech jobs will look like in the future.
I love development, but I also find the whole business lifecycle interesting. Starting my own business or creating something unique one day, really appeals to me. So, I'm not sure exactly what the shape of my career will look like, but I'm excited to find out.