Unlike any other product on the global market, the First Watch platform uses unique algorithms, supported by patented technology to detect and shut down a cyber intrusion on an operational technology (OT) network, in real-time.
A global ascent
A joint venture between the University of Waikato and Hamilton-based industrial automation company, CTEK, the platform has been around since 2019.
And while the company has been collecting customers across New Zealand's industrial sector, they're now making moves overseas with significant projects lined up in Singapore, India, Malaysia and Cyprus.
"We wanted to be 100% certain of the robustness of the product before we pushed hard on sales since a failure in the cyber security space would be catastrophic," says Founder and Managing Director Bob Stokes.
"But now that we're established and the technology is solid, we're ready to launch ourselves into the international market."
And they're already turning some high-profile international heads.
Singapore government's cyber security authority has granted First Watch funding for a team of research and software developers to integrate a machine learning AI module into their product over a two-year period – with an end user in the power industry already secured.
"Singapore is a cyber hub, and it's a significant milestone that the Singapore government has recognised what we have, and wants to fund further development of the product," adds Bob.
Alongside the Singapore project, the team is gearing up for a pilot installation for a shipping company in Cyprus. Plus, they're working on a project in India to protect power distribution networks from cyber-attacks and are in talks with the Philippines and Malaysian governments about similar infrastructure projects.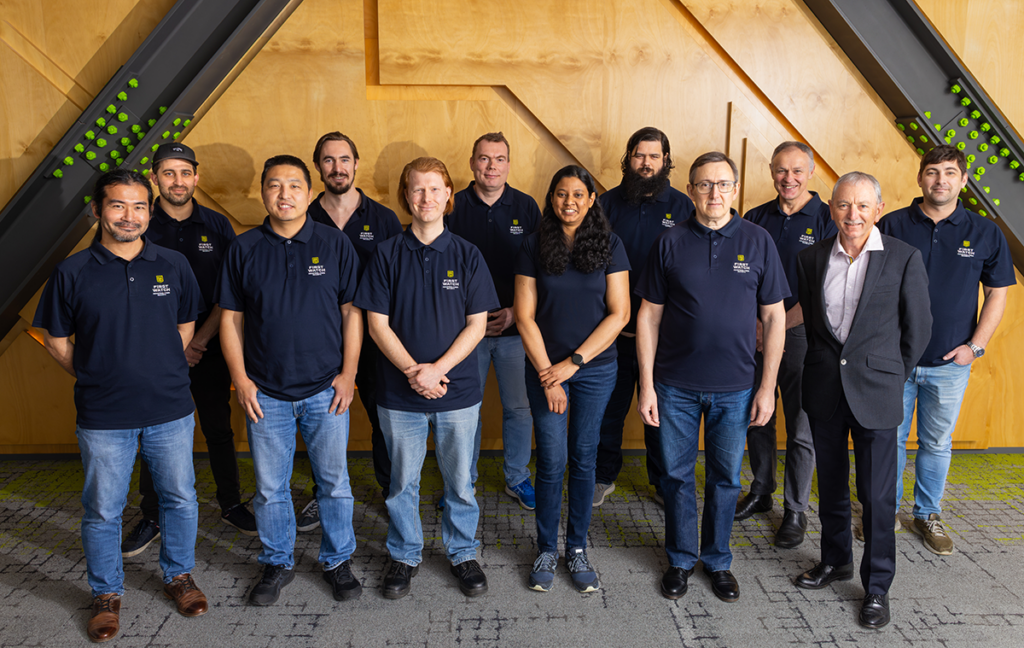 First Watch's team at the First Watch/CTEK office in Hamilton
From concept to reality
The First Watch platform came about after Bob was invited to a presentation at the University of Waikato.
Professor Ryan Ko and his research team at the University of Waikato had been given around $10 million government grant to research and develop a technology that could identify a cyber intrusion in the cloud and shut it down instantly.
"I thought 'this was really interesting'", says Bob, who saw immediate potential to tailor the technology to the operational technology environment, where all critical infrastructure is exposed.
"Unlike any other cyber offerings from competitors, First Watch offers active protection at OT level 1 – PCC's and HMI's.
"We live in a world now where wars are less about bullets and more about cyber-attacks. I'd seen first-hand how cyber-attacks could cause major disruptions and we knew that critical infrastructure operations were a high target for hackers," Bob adds.
So, he went back to Professor Ko and formed a joint venture between his industrial automation company, CTEK, and the University of Waikato and began rebuilding the product for the OT environment.
Fast forward 4 years, and the system is now protecting customers across New Zealand's industrial sector and overseas in Australia, Singapore and India.
Navigating the startup terrain
The biggest challenge, according to First Watch's Chief Technology Officer Alex Ladur, was understanding what exactly they were trying to create.
"We knew we wanted to protect the OT environment – PCC's and SCADA platform – somehow. We needed clarity on our vision. So, we had to work through all that.
"Besides that, it's not easy to achieve a high level of protection because generally technology systems aren't created with security in mind."
Alex adds that finding the right people took some time.
"The startup environment is not for everyone. It doesn't have the stability of an established organisation and we didn't have the same vision then that we have today. So, we started to improve our recruitment process and set expectations right from the beginning."
Bob attributes their success to persistence and people.
With a team of 14 engineers and software developers with a structured roadmap ahead for what's to come, Bob says they're in a good spot.
"We now have a great team full of people who are all smarter than me – who don't just have the technical skills but an engineering mindset and who can contribute – who can design, optimise and plan.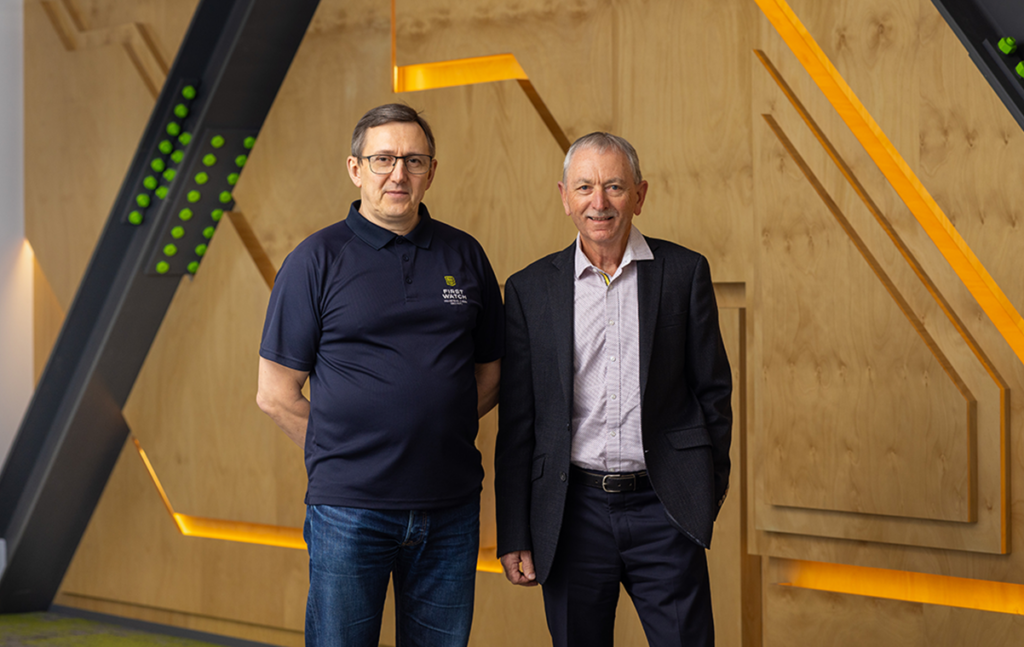 First Watch's Chief Technology Officer Alex Ladur (left) and Founder and Managing Director Bob Stokes (right)
Why Hamilton?
Bob says the presence of the university was a significant factor.
"But it's more than that. Traffic's manageable, real estate is more affordable than the big smoke, it's a good place to raise a family and we're away from too many prying eyes."
Alex, who moved to the Waikato 8 years ago from Moscow, says he was fed up with traffic jams, difficult logistics and having no spare time.
"Here we have plenty of time to relax," says Alex.
Looking ahead
With a growing New Zealand customer base and big international contracts underway, the future's looking bright for First Watch.
"Aside from adding extra features and functions to the product to meet customer demands, we'll also be focusing on finding our niche," says Bob.
Reflecting on their journey, he adds: "Who would have thought a little startup company in Hamilton would, by chance, come across the technology and build up a global company that's making a real-world difference here and around the world."