We sat down with Andrew Scothern, Chief Architect for Gallagher Security to learn more about this integral side of the business.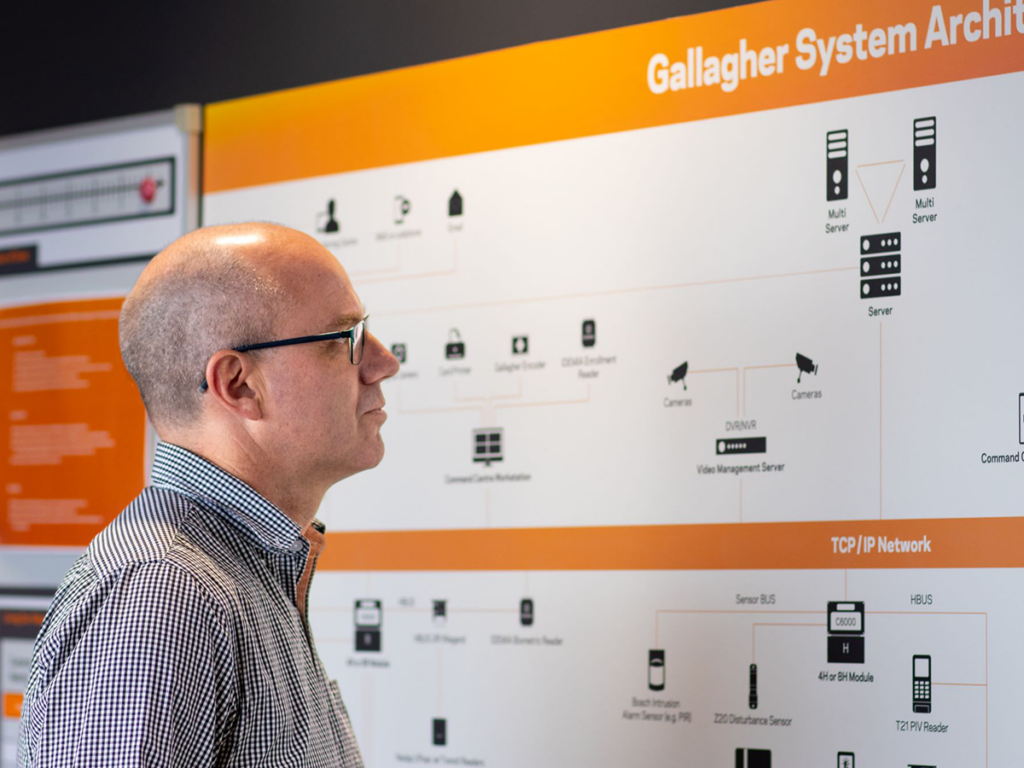 Andrew Scothern, Chief Architect for Gallagher Security
A glimpse into the scale
While it's true that Gallagher's 85-year history is deeply rooted in animal management, thanks to founder Bill Gallagher's invention of the world's first electric fence, it's in no way new to the world of security.
The team began designing and manufacturing security solutions across access control, perimeter security, and intruder alarms 35 years ago after spotting potential within the business and demand in the market.
Now, with 35 years under their belt, and over 15,000 customers in 140+ countries across 40 industries, the security side of the business is thriving.
"Many people don't know this, but our security solution delivery team is actually 3 times the size of our animal management equivalent," says Andrew.
We have 150 technical staff including software and hardware engineers, security experts, UX designers, product owners, project managers, and test engineers all with a strong focus on cyber security and product design."
Andrew explains that they need this depth of talent because of the complex and sophisticated nature of the work.
"Because we're selling systems rather than individual products, this can involve massive pieces of distributed software, with thousands of devices connecting, coordinating with hundreds of workstations.
"For example, we have a customer with a single solution that controls offices in over 50 countries, all running off one system that controls 10,000 doors for half a million people. And that's just one customer."
Aiming High
Andrew explains that it's all about quality.
"We put significant investment into not just being as good as everyone else out there, but better.
"The C7000 Single Door Controller is a great example of this. When we released this in February of this year, it was easily the most advanced, highest power device of its type in the world.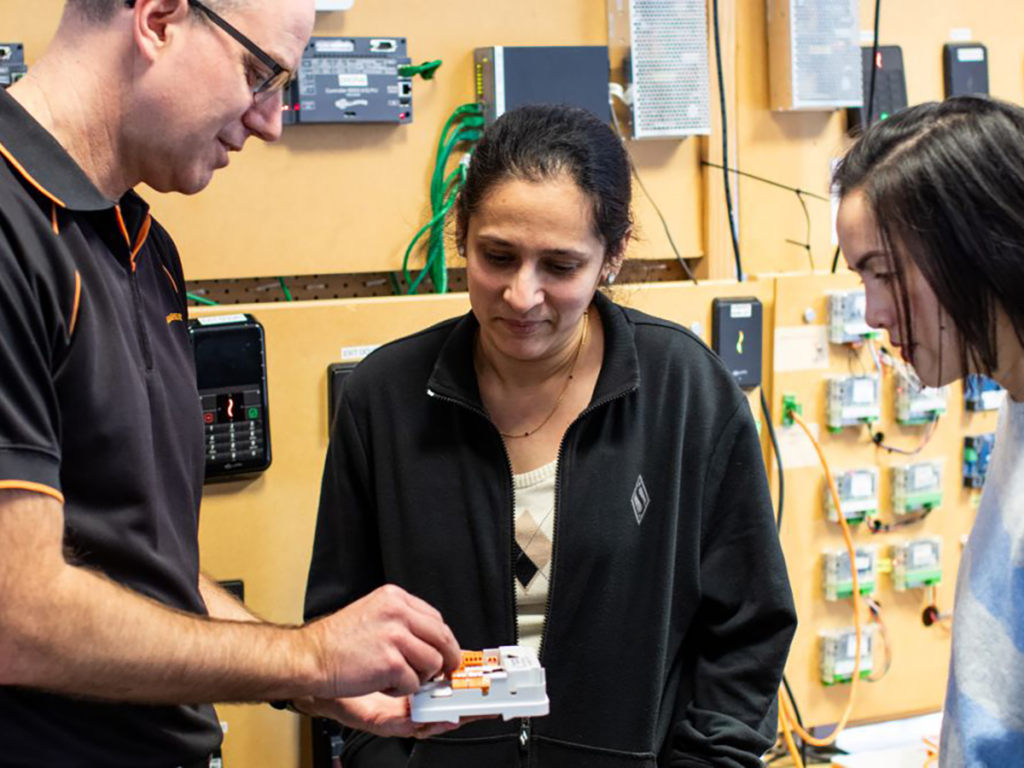 Gallagher Security's Future of Enterprise team working on the C7000 Single Door Controller
"But this takes time, resource, and skill. We've got to understand the wider context – where is the industry going, what are the trends, not just in relation to hardware, but software too, and what do people need out of these products.
"We need to constantly be asking, 'What are people trying to achieve?' and 'What can you do to keep people safe, to optimise space, efficiency, make decisions to keep your business safe?"
Working smarter
When it comes to productivity, Gallagher has recently embraced a framework known as Better Ways of Working (BWOW).
According to Andrew, it serves as their compass, directing their focus towards team autonomy, fostering robust collaboration between teams and customers, and a strong focus on delivering value to our customers.
"Having the right processes in place is vital for achieving true customer centricity," he explains.
"Through BWOW, we've been able to optimise and finetune our processes related to investigations, research, prototypes and development," he says.
"The aim has essentially been about getting closer to the customer and finding out what they care about as opposed to simply what's possible with the technology" he says.
And according to Andrew, it's making a real difference.
"As well as speeding things up and producing better outcomes for customers, it means the team is happier because they have more autonomy and are able to solve problems for customers, faster."
"We have more visiblity for teams, they're able to make more streamlined decisions and test new ideas which means they feel more connected to the project and invested in the outcome."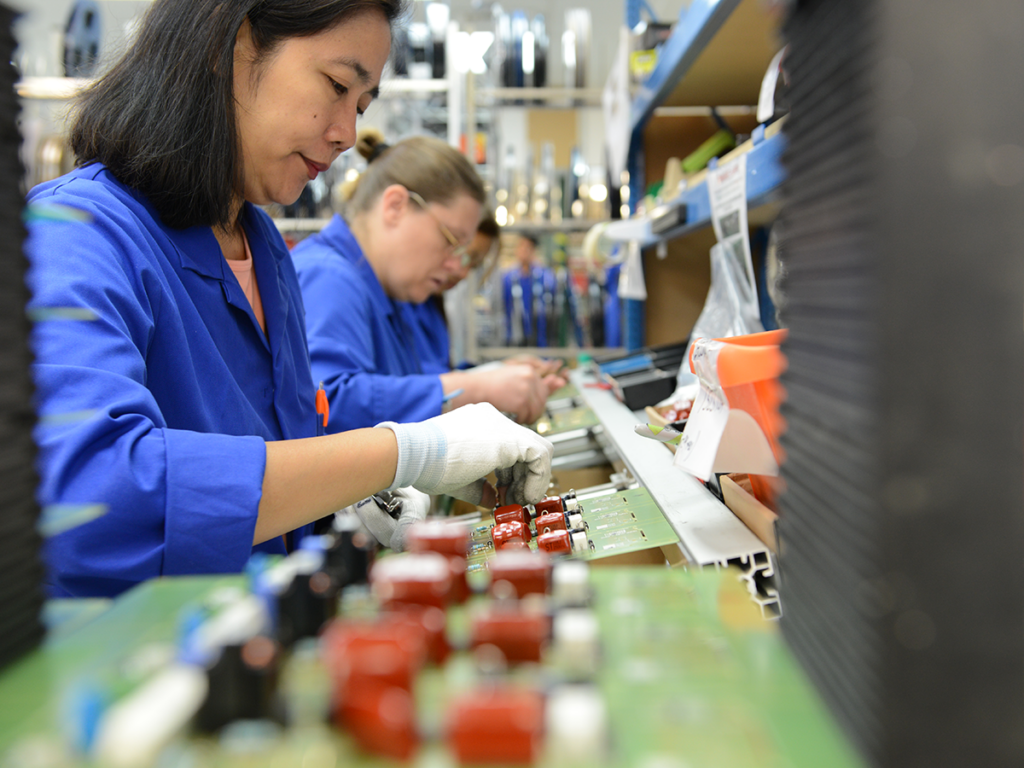 Gallagher Securtiy's manufacturing team in alignemnt with their BWOW framework for efficacy and efficiency
Looking forward
Growth will continue to be a focus for the team, says Andrew.
"We want more customers, more employees and more new and innovative security solutions, and with that comes opportunity for new talent."
Opportunity that's rich and diverse, according to Andrew.
"There aren't many tech companies in New Zealand where you get exposure to different insights from how to manufacture efficiently through to the full spectrum of the hardware and software disciplines required for product development. On the software side we have opportunities for embedded, client/server, mobile, web and cloud development and we encourage people to explore the areas that interest them.
"We're also unique in that our team gets all the benefits of working for a global tech company without the commute and stress of working in a larger city. Here, you get the benefits of a centralised location, with the options of city or rural living," says Andrew.
About Gallagher
Headquartered in Hamilton, in New Zealand, Gallagher is a global leader in the design and manufacture of technology solutions for animal management and security. The story of this family business began in 1938 when Bill Gallagher Senior developed the world's first electric fencing system for farming. Today, the company's product range includes award-winning security software and hardware, electric fencing, weighing and electronic identification (EID), data collection, and wireless water monitoring systems.
Career opportunities
See current job vacancies at Gallagher.